Welcome to Repurposed Ideas Weekly Blog Hop. Please join me to share your ideas about what you've repurposed this week.
I decided to paint some mason jars. I wanted to put something on my kitchen table that felt like fall. So I picked up a can of spray paint at the hardware store for $3.50, the total cost of this weeks project.
I had a number of mason jars that were no longer good for canning purposes. I chose four of them and cleaned and dried them. I took them outside and spray painted them. I hadn't spray painted anything in a long time, so it took me a short time to get the hang of applying an even coat.
After the first coat dried, I decided I would like them better with a second coat. The entire project took about 30 minutes.  I let them dry overnight, and then placed them in my kitchen as flower vases.
My girls really liked them and we decided we would get another color of paint and make some jars for piggy banks or craft items such as crayons or beads.

Here's how you can join in to the blog hop:
1. Publish a blog post about:
a tutorial or simply a photo of a repurposed, recycled, upcylced, or reused item. Examples may include:
■crafts using repurposed materials
■Garage Sale, thrift or antique store finds (let us know what you plan to do with them!)
■DIY or upcycling project
■green themed ideas
■uses for existing products or items you have at home
■stuff you are selling made from repurposed materials
■photos of cool repurposed ideas you've seen, tried, or would like to try!
2. Please make sure to add the Repurposed Ideas Weekly button to your blog post and link back here.
3. Please link to your actual post and not your home page.
Your host for Repurposed Ideas Weekly is Marlo @ Repurpose My Life
(I reserve the right to remove any links that are deemed inappropriate.)
Thank you for visiting! I hope you will join me each week.
Sincerely, Marlo
marlo@repurposemylife.com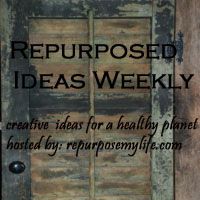 Sharing this post with: