Welcome to Repurposed Ideas Weekly Blog hop where we share ideas about what we've repurposed this week.
Today I decided to throw out some pinteresting ideas about Recycling Christmas. What to do with all that leftover wrapping paper, gift boxes, holiday cards, etc… (leftover cookies you say? Eat those! Quickly!)
Here are some ideas I found on pinterest.
Got Boxes? Big Boxes?
How about greeting cards? Here are some really creative ideas.
When all else fails or when your little ones are finished playing with the box, please remember to RECYCLE!
Now it's your turn to show me what you've repurposed this week! Here's how the blog hop works:
1. Publish a blog post about:
a tutorial or simply a photo of a repurposed, recycled, upcylced, or reused item. Examples may include:
crafts using repurposed materials
Garage Sale, thrift or antique store finds (let us know what you plan to do with them!)
DIY or upcycling project
green themed ideas
uses for existing products or items you have at home
stuff you are selling made from repurposed materials
photos of cool repurposed ideas you've seen, tried, or would like to try!
2. Please make sure to add the Repurposed Ideas Weekly button to your blog post and link back here.
3. Please link to your actual post and not your home page.
Your host for Repurposed Ideas Weekly is Marlo @ Repurpose My Life
(I reserve the right to remove any links that are deemed inappropriate.)
Thank you for visiting! I hope you will join me each week.
Sincerely, Marlo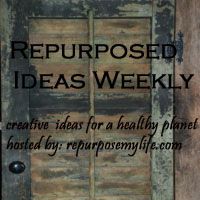 Sharing this post with: