Welcome to Repurposed Ideas Weekly Blog Hop where we share ideas about what we've repurposed each week.
Today I am feature a few gifts my children put together for their family members. Each child got to make something and the items involved repurposing some materials.
My 6-year old daughter made these cute faces with construction paper, left-over google eyes. She wrapped up chocolate bars to put in each of our stockings.
My 2-year old daughter filled toilet paper tubes with chocolate candies and wrapped them up with paper. They turned out cute and her response was, "this is really fun mommy!"
I made these ornaments for each of my family members. A friend gave me the wooden ornaments, purchased from a fabric and craft store. I found the horse, Dora and tractor in a wallpaper sample book. The nativity was cut out from a Christmas card. I simply glued the image to the wood, then mod podge over them to seal them. Easy, and they turned out really cute. I have spent as much as $15 in the past on a single ornament. These cost me absolutely nothing!
Now it's your turn to share. Here's how it works:
1. Publish a blog post about:
a tutorial or simply a photo of a repurposed, recycled, upcylced, or reused item. Examples may include:
crafts using repurposed materials
Garage Sale, thrift or antique store finds (let us know what you plan to do with them!)
DIY  or upcycling project
green themed ideas
uses for existing products or items you have at home
stuff you are selling made from repurposed materials
photos of cool repurposed ideas you've seen, tried, or would like to try!
2. Please make sure to add the Repurposed Ideas Weekly button to your blog post and link back here.
3. Please link to your actual post and not your home page.
Your host for Repurposed Ideas Weekly is Marlo @ Repurpose My Life
(I reserve the right to remove any links that are deemed inappropriate.)
Thank you for visiting! I hope you will join me each week.
Sincerely, Marlo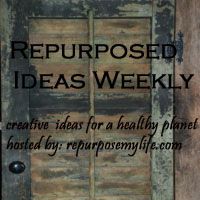 Sharing this post with: